This morning I had the experience of witnessing a police arrest. I was about to enter the subway station at 145th St. and St. Nicholas, when I noticed a large number of people on the landing at the bottom of the flight of stairs, and heard some screaming. I have no idea what happened before I arrived, but as I started walking down the stairs I saw a cluster of policemen scuffling with a man and a woman, both young (I would guess in their early 20s), both black.

The scene was disturbing, to say the least. I saw a large cop (himself black) slam the young man against the wall, causing him to hit the back of his head quite hard. What followed was a pile-up in which 3 or 4 cops wrestled the two youngsters to the ground and piled on top of them. By this point I had pulled out my phone and started recording.

The young man remained surprisingly calm as they rolled him onto his face while one cop was kneeling on his back and twisting his arms to cuff him. He said a few times "I am not resisting" while one cope said "you are resisting, you are absolutely resisting" (he was absolutely not resisting). The woman was screaming, sounded like a combination of pain and anger. Two of the cops pulled her up and pushed her toward the opposite wall, where she was screaming for them to let her go. The same large cop was being visibly forceful. A third cop moved over the help hold her while she was being forcefully cuffed.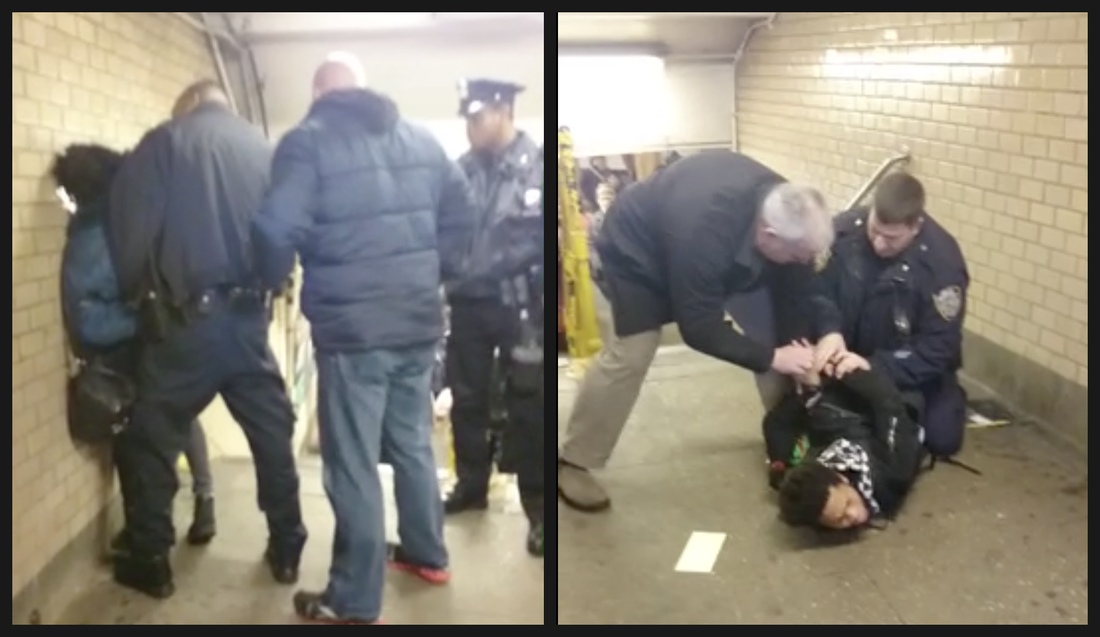 After cuffing the woman, the large cop kept pushing against her, and she kept screaming. You can hear a guy next to me who was telling the cops to stop, just put the cuffs and "that's it." After a few moments the large cop started pushing the woman toward the final few steps (the police station is at the end of the station on that floor), and when she kept screaming, he dragged her down the stairs backwards.

By this time there must have been at least a dozen cops gathered around. I could see the cops taking the two youngsters to the police office at the end of the hall, beyond the turnstiles. People moved on.

I found this scene extremely troubling. This certainly was nothing like some of the videos I have seen, and nobody seemed to get hurt to the point of breaking bones or life-threatening injuries. Also, I was not there at the very start of the incident, so I have no idea what these two might have done, or how the initial interaction between them and the police might have taken place. However, there is no question that the police were using a level of force that seemed, excessive, unnecessary and inappropriate. There was a lot of police and only two young people. There was no evidence of any weapons. The large cop in particular was roughly twice the size of the young woman, and was being extremely forceful with her. Had I seen someone that size treating any woman that way, I would have jumped in and made sure he got arrested. Had he been doing that to my daughter, I would have attacked him.

But other aspects of this situation bothered me even more. I have no idea who these kids were. The woman was cursing a lot, but in the same situation I would have too. The young man was extremely collected and polite. They both were dressed reasonably well. In all, it is likely in my opinion that they are a couple of decent kids, maybe students at the nearby college.

Whatever it is that they did, they are now in a situation that will mark them, possibly for their entire lives. And this is what I just can't accept: what the hell could two youngsters possibly be doing in the middle of the morning in a busy subway station that would warrant treating them like that, and arresting them? This wasn't a couple of sketchy criminals late at night in a dangerous neighborhood. Why do the police have to resort to this kind of physical force? Why can't they try to cool things down? Who is benefiting by beating up a couple of young people and arresting them? Who is safer as a result? How can the NYPD web site claim that the want to treat "every citizen with courtesy, professionalism, and respect" and then treat people like this?

Again, I have no idea what these two youngsters might have done to deserve to be arrested, but short of having threatened people with weapons, I cannot see any scenario that justifies this sort of police behavior. I don't care that the young woman was kicking and screaming obscenities, what the cop did was abuse, pure and simple. The fact that he did this under the aegis of a badge makes it all the more sickening.

And finally, my own children are roughly the same age as the two who got arrested. As I have said in a previous post, because my kids are white, I doubt that any police officer would ever have dared to treat them like that, and in fact the situation would probably never have escalated as it did. But for minorities all over the country, this kind of situation happens all the time.

The kind of police brutality that we see on YouTube and on the news is just the tip of the iceberg.