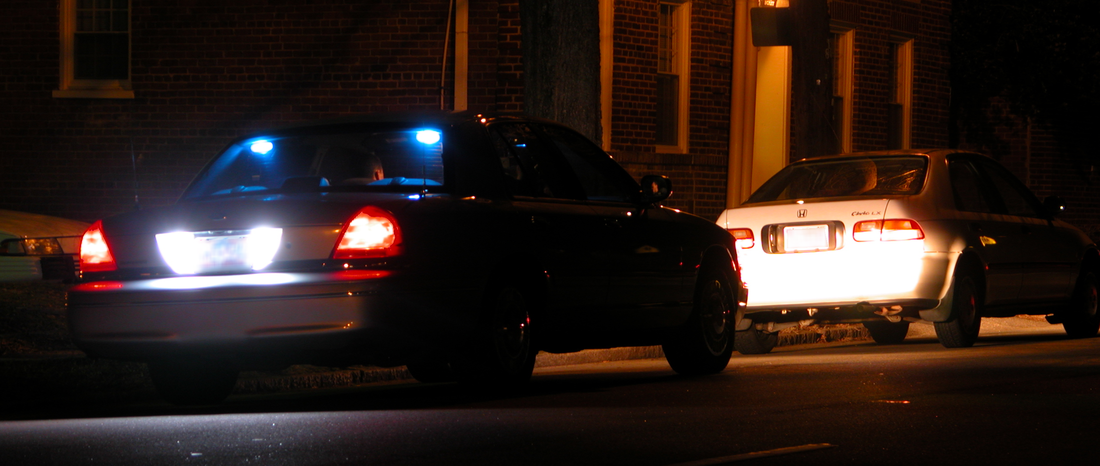 Last weekend I was driving a rental car from upstate New York back toward the city. It was late evening, a nice open road, minimal traffic, going downhill, having a great conversation with my wife. I wasn't really paying attention to my speed until I drove by a hiding cop who blinked his spotlight at me. I glanced at my speedometer, which was somewhere in the 70s. I looked over to the side and noticed a 50MPH speed limit sign.

My heart skipped a beat, and as I looked in my rear view mirror and saw the police car come out of its hiding spot, I knew I was in trouble. In spite of my "creative" driving style, I think my last speeding ticket was about 10 years ago. I have managed to keep a clean record for many years and I'd like to keep it that way.

After following me for maybe 30 seconds, the cop turned on his lights and I pulled over. Moments later I could see his silhouette cast against the obnoxiously bright spotlight as he walked up to my side of the car. I rolled down my window and waited for him to address me, hoping I would not sound too nervous.

"Good evening, sir."

"Good evening, officer."

"Do you know how fast you were going back there?"

"To be honest, I was not paying attention, and when you blinked your spotlight I looked down and saw it was somewhere in the seventies."

"Yeah, I clocked you at 72 MPH. The speed limit in this area is 50."

"Yes, sir, am sorry, it's a rental car, I wasn't paying enough attention, I am really sorry I was going too fast."

"Can I see your driver's license?"

"Here you go. And here is the rental contract."

"It's OK, I just need the license. I am going to check it out, will I find anything wrong with your license?"

"No sir, I have a clean record."

As he walked back to the car, my wife and I groaned, a mixture of stress and frustration. There go a couple hundred dollars. Should have been more careful!

Instead, a minute later the cop walks back up to my window, hands me the license, and says:

"Here you go sir. Your license checked out OK. I appreciate that you were honest with me so I am going to let you off. But there is a reason the limit here is 50, please drive slower and be careful."

"Thank you officer, I really appreciate it. I'll be more careful."

As we drove off, relieved to have been let off so easy, my wife and I commented how lucky I was. But we immediately discussed how different the situation would have been if I had been a black man.

Instead of "skipping a beat," my heart would have sunk.

It would have sunk because instead of not having been stopped by a cop for ten years, I probably would have been stopped several times in the last tenmonths, often for no reasons.

It would have sunk, because instead of worrying that I might sound nervous, I would worry whether anything I say might get me arrested.

It would have sunk, because instead of fearing that I might get a $200 ticket, my concern might be getting beat up or even killed.

I am a white man, and that makes me privileged.

I did not choose to be born white and male, and I did not ask for this privilege, but it's a part of my life.

I don't like to think that the evening might have turned out very differently if my skin color had been different, but it's an undeniable fact.

I don't like to think that most white people (white men in particular) have no idea that they are privileged, but they are. We are.

I hate to think that many of my fellow human beings, who are born just like me, breath just like me, eat just like me, sleep just like me, work just like me and love just like me, must live in constant fear just because their skin color is different.

But they do.